An Adviser Group allows for a sharing of commissions as well as allowing introducers and pay-away's, through a commission split. An adviser group will evenly distribute the commission allocated to any of the members of the group. 
Within the Settings section of Adviser Cloud click Users tab followed by Adviser Groups.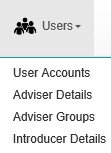 Adviser Groups can be added by creating the group name & admin email as per the screen below.

Click green Create Consultant Group button to complete.
Once created the group will be displayed as shown below: