Documents can now be ordered,manually created and filtered in the new document settings.
To edit document settings go to Settings, press Functionality, then finally press Document Settings.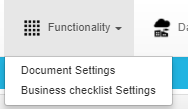 Once inside the Document Settings you can turn on Document Settings by pressing the switch which status is off below.

Setting Default Folders
To set default folders switch Set my own default folders on. 

Once the default folders are turned on you can select your own folder names. To add a default folder type the name of the folder and select a Parent(Folder for the folder to go into), then press add folder.

Show Partners Folders
To show partners folders inside their partners folder, switch Show Partners documents and folders on.


Sort folders A-Z
To sort folders from A-Z, switch Sort folders A to Z on.