The Users section manages your user accounts, adviser details & groups and introducer details.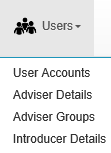 User accounts can be viewed by clicking the user accounts button. A New User Account can added or edited using the buttons shown below.  

You can view adviser details by clicking the adviser details tab - as shown below.

Adviser Groups can be added by clicking the adviser groups tab and then creating the group name & email as per the screen below.

 Once added the groups are shown as below:

Introducer Details can be added by clicking the tab and then the New Introducer Grey Button - located in the top right corner.