A Cash flow modelling tool
CashCalc is a suite of financial tools & calculators covering all aspects of financial planning designed by planners, for planners. CashCalc enables financial services professionals to calculate growth rates, saving pots, pensions and other income related planning advice.
Before this integration if you had a CashCalc subscription you would be required to complete the following steps:
1. Login to CashCalc with own username and password each time
2. Add client details
3. Select required client
4. Choose a financial planning tool
5. Manage the data that appears in the calculator with saving pots
How does Adviser Cloud integrated with CashCalc make this easier & quicker?
Key points:
1) You Don't need to re-key client data or information
2) Valuation information from policies is sent directly to CashCalc (preventing re-keying of information)
3)The quick link button within your adviser cloud portal auto logs in to CashCalc (preventing re-keying of username & password)
4) Potential to link reports generated with CashCalc to Adviser Cloud
To begin using CashCalc with Adviser Cloud, you will need to register for a CashCalc account here: https://cashcalc.co.uk/register.php they do a free 28-day trial so you can see the effectiveness of their tools before committing if you haven't used CashCalc before.
Once you have a username and password from CashCalc you can register your account details with Adviser Cloud, you can do this by clicking Enable CashCalc from the Actions menu within the command bar on the top right of the people section.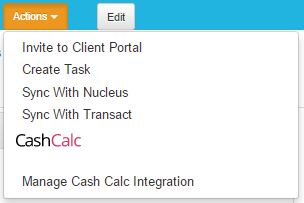 (Alternatively, you can also enable CashCalc by going to Settings > Admin Tools > Provider Settings)
Enter your username and password into the boxes as shown below, and press the green Save button.

You will now be presented with a "Provider Specific Functions" panel as shown below; Press the green Register Account button

You should get a message that says Status Success and this indicates that you have successfully linked your CashCalc login with Adviser Cloud.
Once you have successfully linked your CashCalc account to Adviser Cloud and you are logged into your Adviser Cloud portal, you can click on the CashCalc logo under the client Actions button.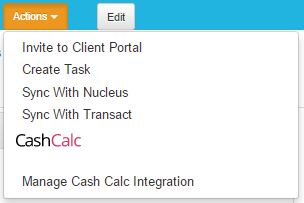 Clicking the CashCalc button (as shown above) will take you straight into CashCalc, you will notice that the client information has already been added for you, saving valuable time re-keying information.

Then you can create a cash flow model as required - see example below.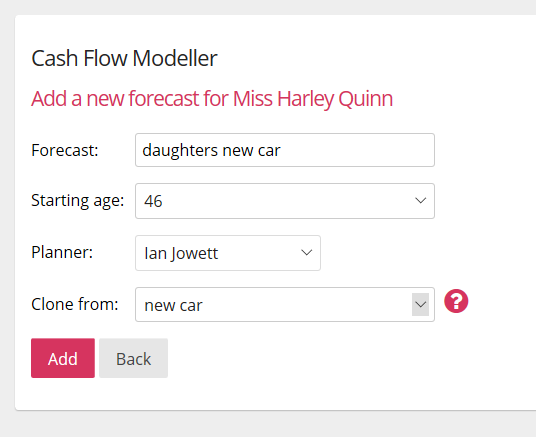 Adviser Cloud and CashCalc have cleverly integrated to provide usable product data within their tools, the Adviser Cloud pot's are all the client's policies and the latest valuations.