Fixed paper or PDF statements can be entered into Adviser Cloud using our manual input screen which has been specifically built for quick data entry for this statement type. This can be found by clicking Statement – Manual Input within the Provider Statements tab.
Go to the Accounts section of the main menu

Within the Provider Statements Tab click Statement - Manual Input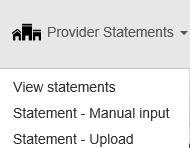 Below is the Manual Entry Screen to be completed. Click the Add Item button once information has been added.